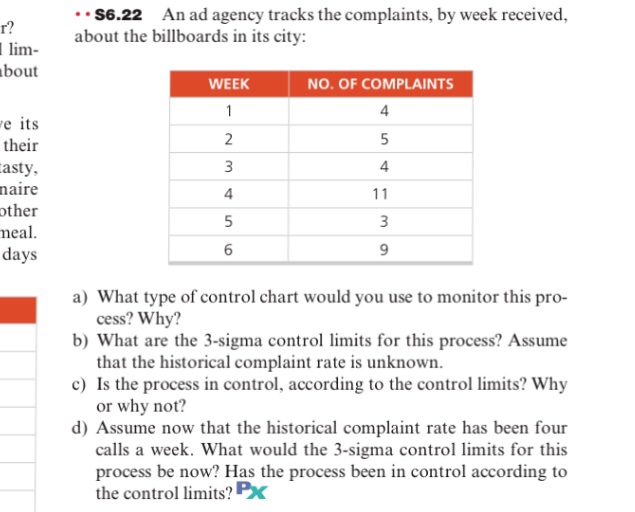 Expert Answer
Answer to question a :
Choice of C hart will be the appropriate control chart to monitor this process.
C chart is used when counting total count of defects ( here that is 'complaints') per unit ( here that is 'week)and is appropriate when the sample size is uniform . Here sample size for each case is "Week" and hence has an uniform sample size.
In case sample size was not uniform , c chart could not have been used and instead u chart would have been used.
Answer to question b :
Let , Cbar = Average number of complaints per week
Therefore, Cbar = ( 4 + 5 + 4 + 11 + 3 + 9) / 6 = 6
Thus 3 sigma control limits are :
Upper Control Limit ( UCL )
= Cbar + 3 x square root ( Cbar)
= 6 + 3x square root ( 6)
= 6 + 3 x 2.45
UPP
= 13.35
Centerline ( CL) =Cbar = 6
Lower control Limit ( LCL)
= Cbar – 3 x square root ( Cbar)
= 6 – 3 x 2.45
= 6 – 7.35
= – 1.35
However since derived result for CL is negative number, we must consider LCL = 0
3 SIGMA UPPER CONTROL LIMIT ( UCL ) = 13.35
CENTERLINE = 6
3 SIGMA LOWER CONTROL LIMIT ( LCL) = 0
Answer to question c:
The data on number of complaints are : 4. 5, 4 , 11, 3 and 9 . It can be seen that all these data are within UCL of 13.35 and LCL of 0 . Therefore, it can be concluded that the process is in control…